Discussion Starter
·
#1
·
Hey everyone,
I drive a GSX-R600 K4, or at least I used to up until a pretty eventful weekend. It started with my car's windshield developing a nasty crack, and ended with a moto wreck that resulted in the front & side fairings, headlight ass'y, instrument cluster, and front fairing stay being ruined. I've spent the past couple of days dwelling on the situation, what went wrong, and what could have prevented it. I believe that I've settled on a root cause, and I'd like to share the experience with newer riders here. If any veteran riders disagree with anything I say, respond to the thread! By no means do I want to give false advise or lead new riders astray. I should also say that I've been riding since last fall, so my experience level is still extremely low, which in my opinion mostly contributed to this accident.
The Backstory
I went for a Sunday ride with a friend of mine. An hour and a half ride through some country roads to get the cobwebs out of the bike. It was a relaxing and uneventful ride. Weather was beautiful, traffic was minimal, and plenty of fellow riders were out.
The Accident
The accident happened less than 0.5 miles from the end of the ride approaching a red light. There were 3 cars ahead of me, all slowing down for the light, as I was. Unexpectedly, the driver 2 cars ahead braked aggressively, causing the driver in front of me to do the same. Here's where my inexperience came into play; I reacted most likely as I would have reacted in a car, which is too slow for a bike. I ended up hard on the front and rear brakes, but wasn't slowing down enough. My front tire kicked to the left and the rear tire kicked out right, and without any speed to keep me upright I fell to the left of the bike. The bike slid up to the car in front of me and hit his rear bumper while I slid and tumbled away. I immediately got up and ran to the bike to remove it from the road, unaware that my bike had contacted the car in front of me. He pulled over and ran over to make sure I was alright. The damage to his vehicle was limited to a slightly bent license plate, of which he wasn't concerned with at all. My bike, however had more extensive damage. We exchanged information, I called the local police to have them file a report, and the driver stuck around until a tow truck showed up to give me the ride of shame back home. He swore that I had tons of distance behind him, which made me feel good that I wasn't too close, but bad that I suck at emergency braking so much. Didn't we go over this in the safety course? Yes, but that was months ago, and it's not often you have to brake hard like that.
The Damage
From what I can tell after investigating the broken pieces, it looks like brunt of the damage was caused by the failure of the front fairing stay. When that failed, the front fairing, headlight assembly, and instrument cluster were free to fall away from the bike and become damage.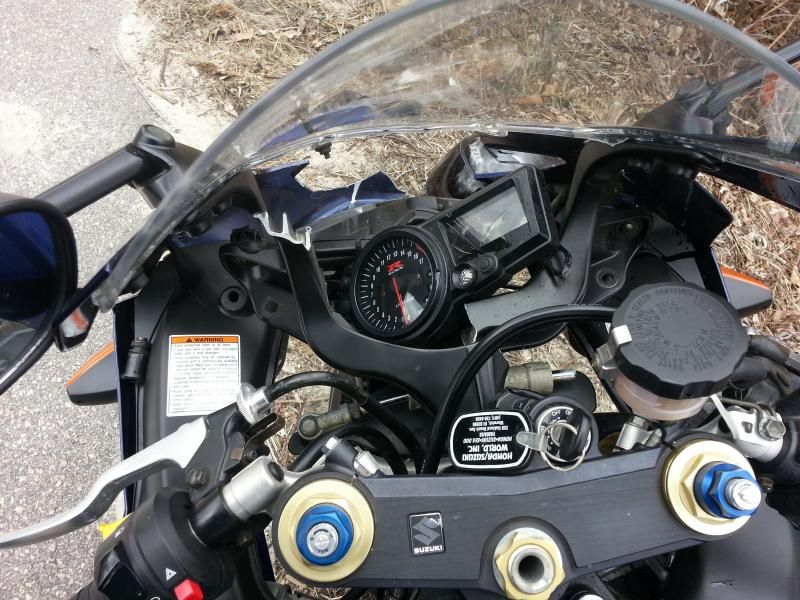 The right side fairing cracked under the stress of the entire front fairing assembly losing support from the fairing stay. I had frame sliders on the bike, so the fairings had no scratches at all, although the stator cover got scraped a bit.
Power was still being delivered when the ignition key was turned on, indicating the wiring harness and battery were undamaged (signals & horn still worked). Unfortunately, the kill switch must have developed a loose connection so I was unable to start it.
Now I'll talk about the gear. I was wearing
AGV Sport Willow Leather Pants
,
Cortech GX Sport 3.0 Jacket
,
Cortech Latigo Air RR Boots
,
LaZer Monaco Carbon Helmet
, and
Icon Twenty-Niner Gloves
.
The jacket only had one small rip in it, with a few scuff marks here and there. The helmet had a scrap mark on it just below the face shield, although I feel like my head scraped quite a bit, so I'm surprised the damage was so minimal. The pants were practically undamaged, all stitching wasn't even touched, and only a few scuff marks were present (funny enough the AGV logo's took a lot of the wear). My gloves were in excellent condition with some fraying at the top of my left hand. I only had one scrape from the knee armor in the pants, which is really nothing considering what would have happened if I wasn't wearing any protective gear at all.
I might add pictures later of the gear, but really there's nothing to see.
Lessons Learned
Alright, so now that you've read what happened and seen some pictures, I'll outline the lessons I've learned here.
1.
ATGATT
: I cannot stress this enough. It saved me from banging my head on the pavement, losing skin on my legs, and potentially more harm. DO NOT SKIMP ON GEAR.
2.
PRACTICE EVERYTHING
: Instead of going on that ride, I should have rode to a parking lot to practice my skills. I spent too much thought on respecting the bike's power and being gentle with the throttle, and not enough thought on skills in braking. If I had a time machine, I would go back in time and practice emergency braking with that bike so I could be more prepared. Of course, every maneuver in the MSF course should be practiced to keep those skills sharp.
3.
DON'T TRUST ANYONE
: Just because drivers were slowing down to a redlight doesn't mean everything is okay. Someone could suddenly and unexpectedly jam on their brakes which requires quick reaction time. Leave plenty of room between you and others, even more so than you would in a car.
4.
LEARN FROM IT
: If you find yourself in an unfortunate situation like myself, don't get mad at other drivers, and don't get mad at yourself. Take a step back and analyze the situation. Figure out what went wrong and take whatever risk mitigating steps you can to prevent a similar event from happening in the future.
-CourtJester :cheers