Discussion Starter
·
#1
·

It's fun to ride your motorcycle on a sunny day in spring, and if you cannot wait to start the next riding season, but the air still too cold for that, consider investing in a set of electrically-heated gear, such as a jacket, gloves, pants, socks, and so on. These products are designed to the rider comfortable and protected when the mercury drops. If you get wet or it is too cold outside, you won't get as much joy from the ride as you could.
The assortment of products that we offer can keep your toes, hands, or your core warm using the power from the electrical system of your vehicle or be powered by rechargeable or regular batteries. Some of the items even have remote controls for maximum convenience. Whatever you choose, our heated gear will make you change the whole attitude towards riding in cold weather conditions. Put it on and continue having fun without worries.
Highway 21® - Radiant Men's Heated Gloves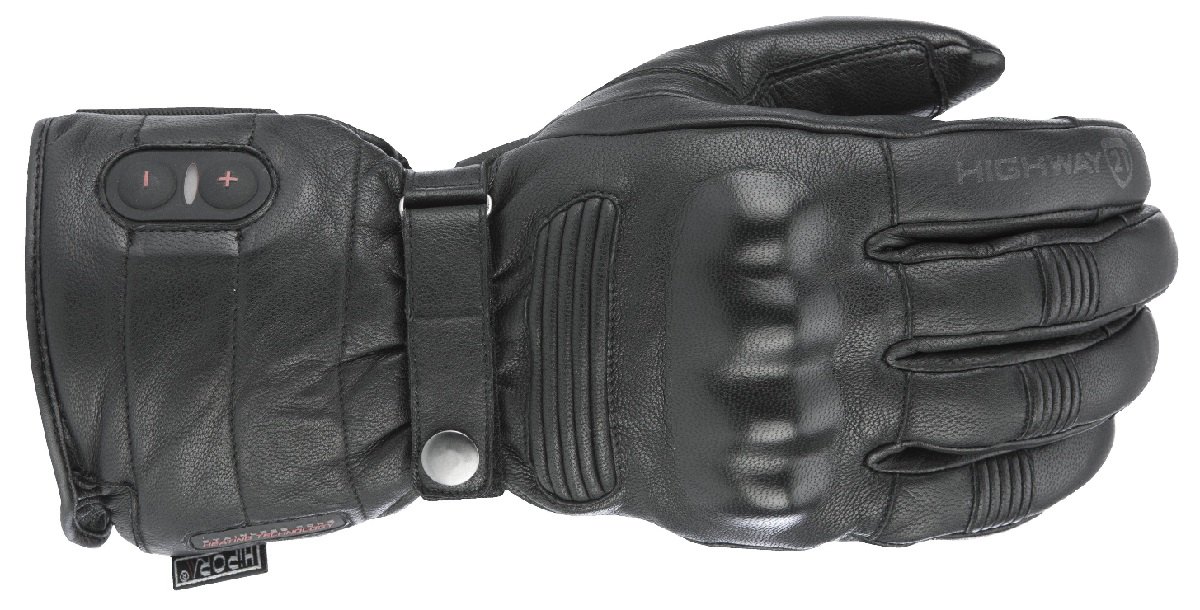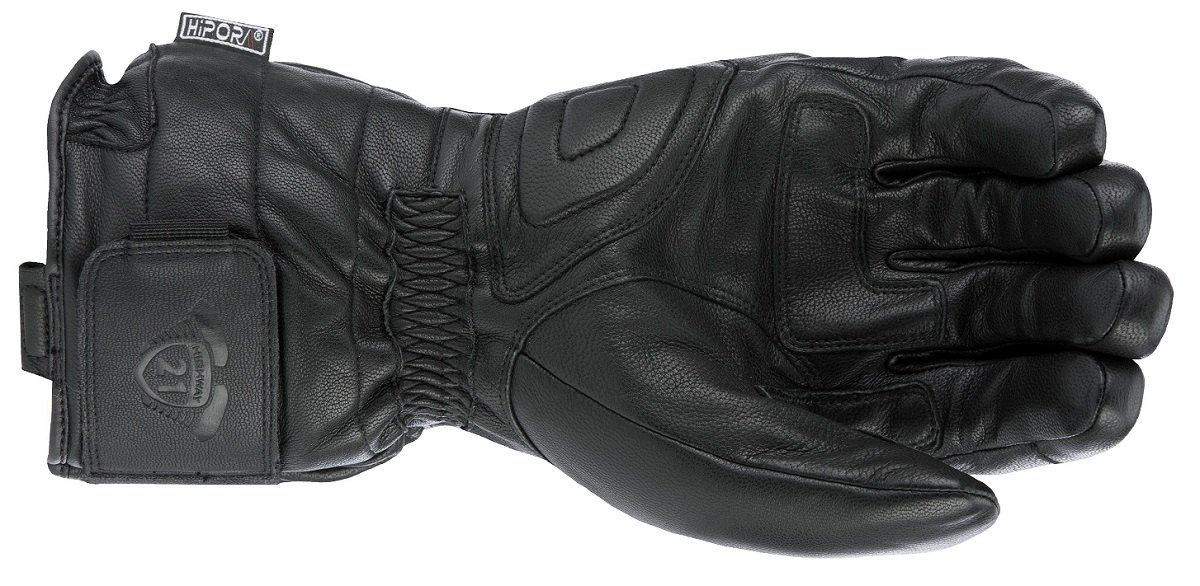 Features:
• Lithium-ion battery and controller with 3 heat settings
• Genuine leather construction provides durability
• Hipora® liner is waterproof and windproof while still offering breathability
• 100g of Thinsulate insulation
• Touch Screen compatible
• Armored knuckles for added protection
• Pre-curved fingers enhance comfort and reduce rider fatigue
• Adjustable gauntlet
California Heat® - 12V Jacket Liner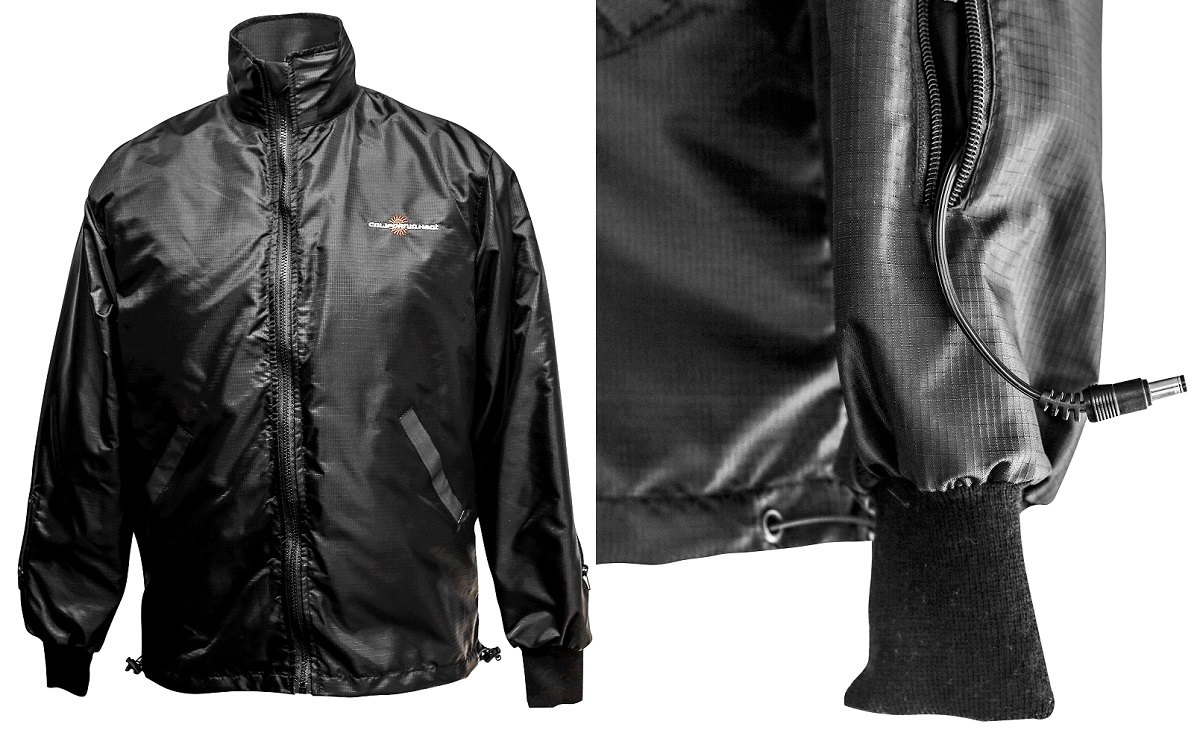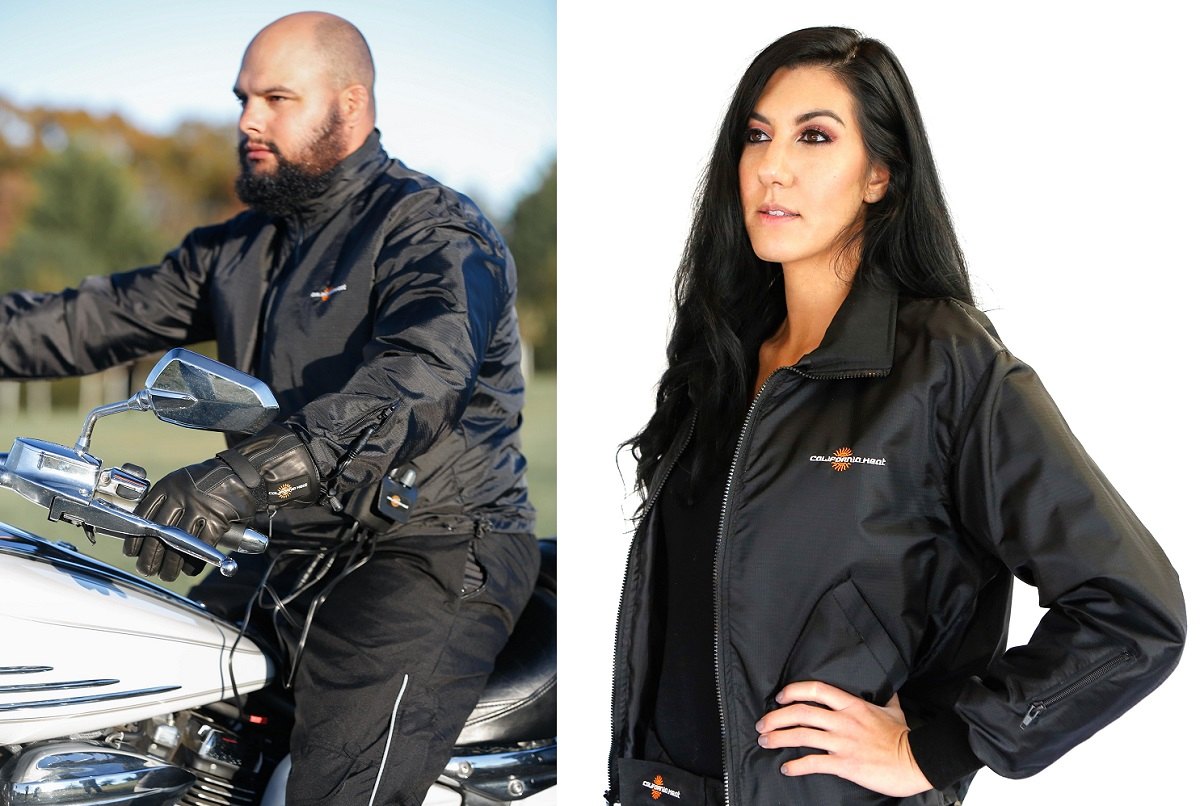 Features:
• Wind resistant, water repellent ripstop nylon
• Very lightweight and highly compressible garment
• Sized to fit snug to your body under an outer jacket
• Pockets on the sleeves to store glove plugs when not in use
• Plugs in the sleeves and accessory plug to connect heated gloves and pants
• Heating elements located on the chest, back, collar, and sleeves
• Power: 77W @ 12V or 6.4A total
• Max Heat 135° F
• Included: battery harness with 15A fuse
FirstGear® - Heated Puffer Vest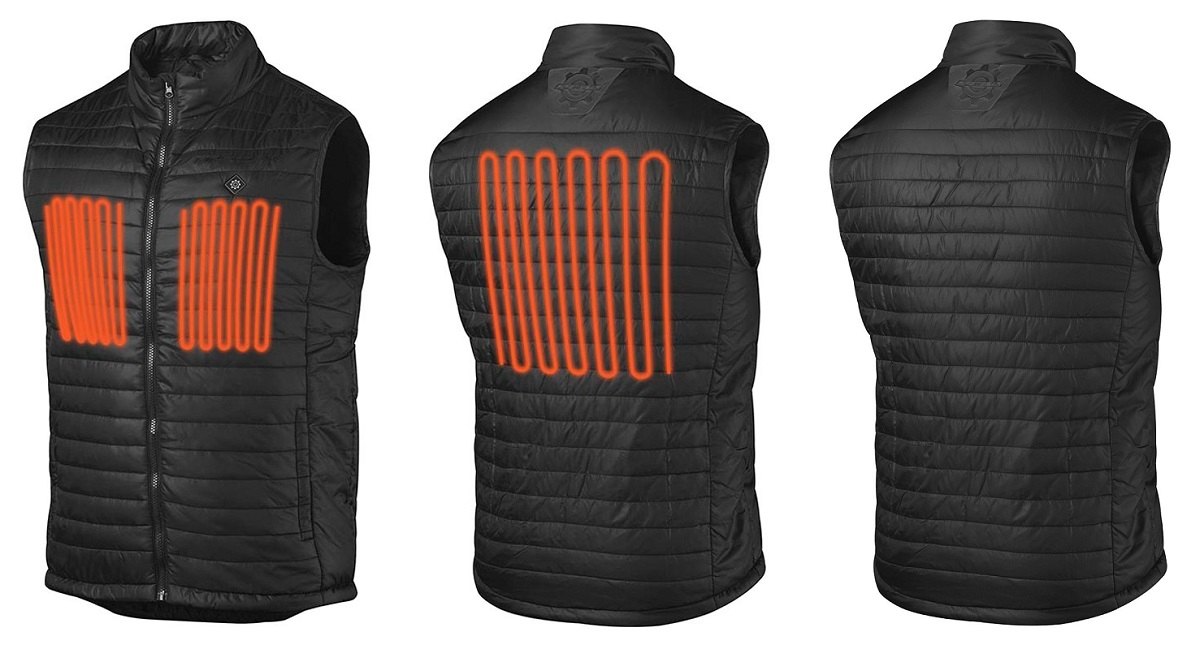 Features:
• Made with thermal and lightweight materials
• Fits under a jacket or can be used by itself
• Two zippered hand warmer pockets
• Two internal storage pockets and one additional internal battery pocket
• Built-in, chest-mounted heat controller
• Can be portable with a compatible Li-ion battery using the USB input connector
• Power: DC:5V, Draw: 9W
Tourmaster® - Synergy Pro-Plus 12V Heated Pants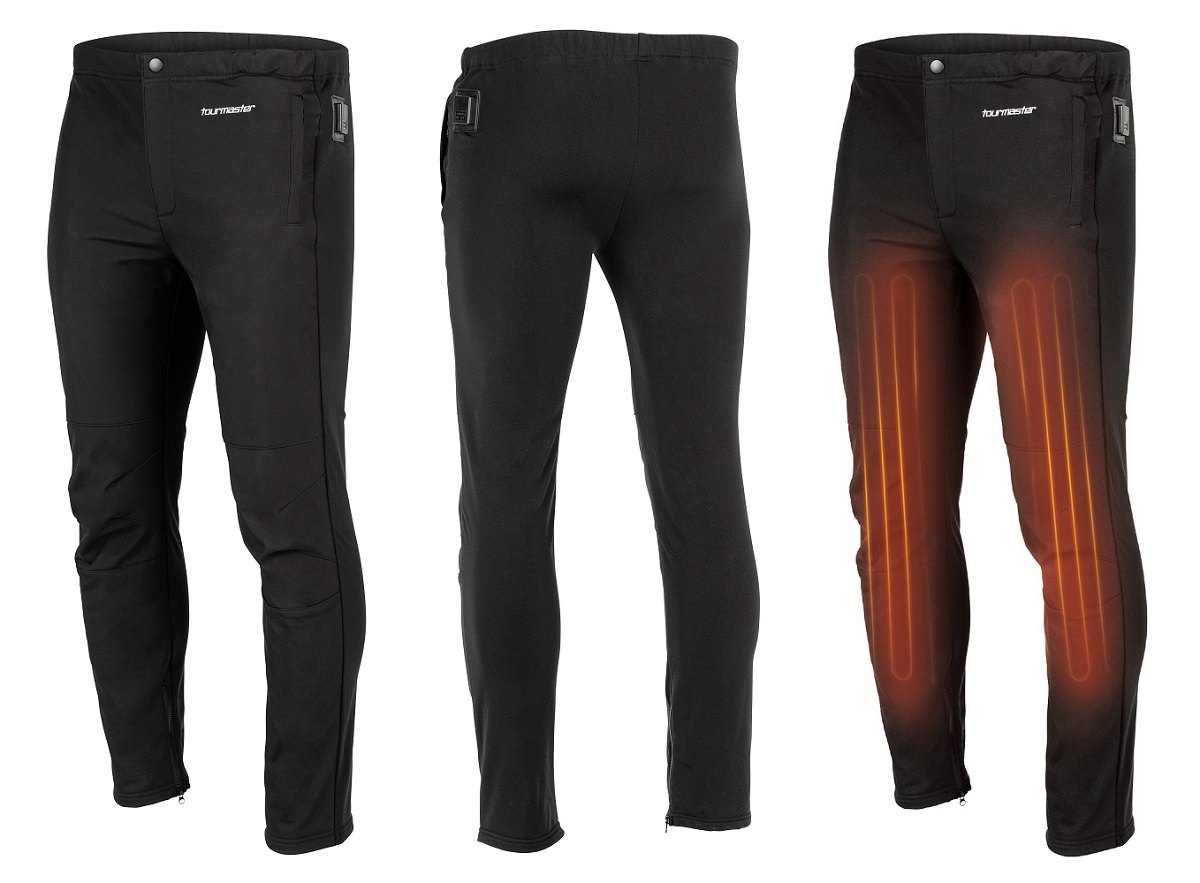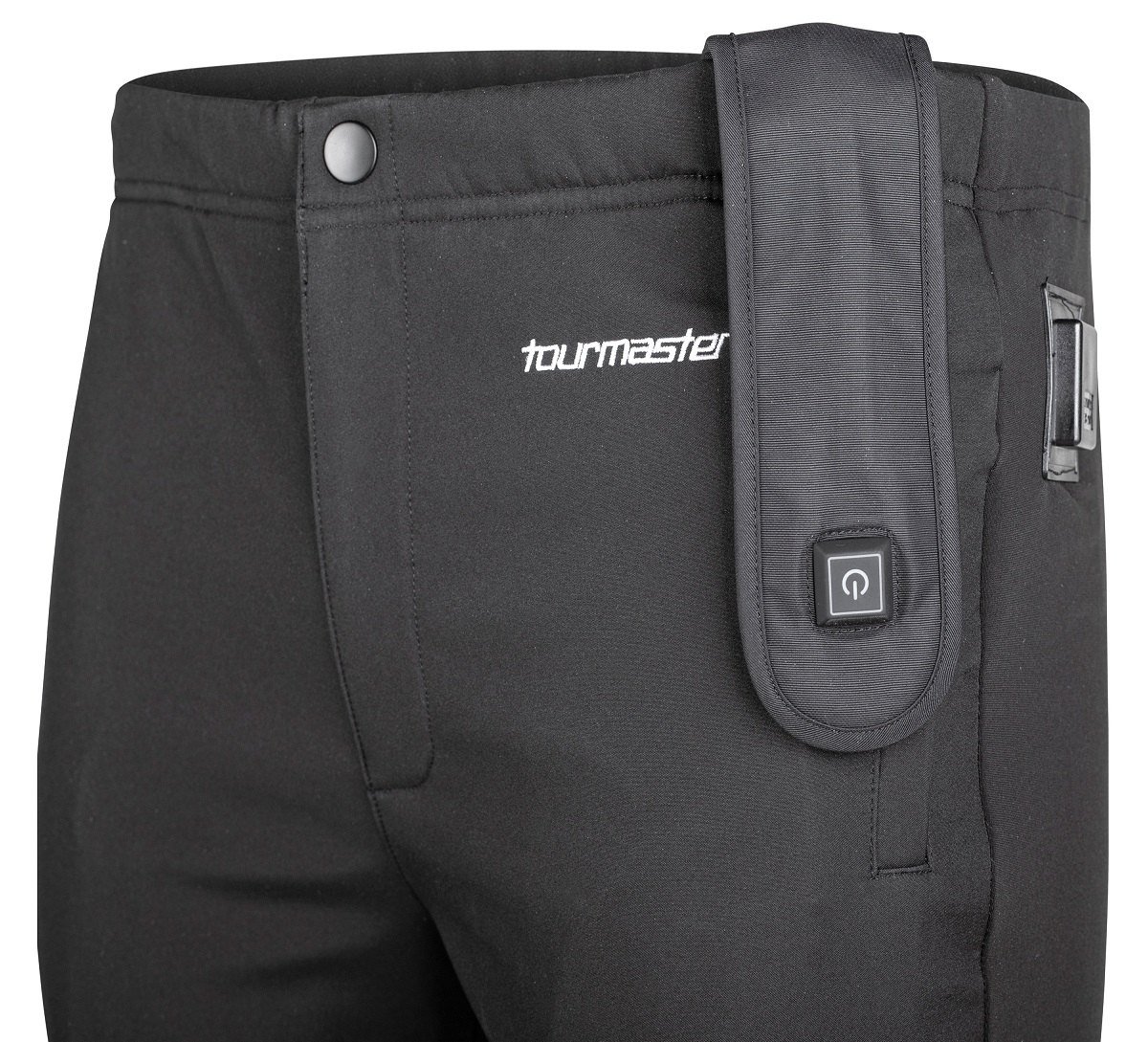 Specifications:
• 100% Polyester wind and water-resistant soft-shell fabric front panel
• Nylon and spandex rear compression panel for reduced bulk and increased comfort
• 100% Polyester microfleece fixed liner
• Thigh to shin flexible carbon fiber heating elements located on front panels
• Heating elements connected using thermoplastic elastomer (TPE) wire for added safety and efficiency
• Built-in waterproof 3-setting LED smart soft touch controller located on the flip-out tab at waistband
• Integrated microprocessor and thermal cut-off protect against power surge and overheating of elements
• 12v DC power / 38.4w power draw / 3.2a current
• Heat settings: high (126°f/52°c), medium (113°f/45°c), low (100°f/38°c)
• Integrated and concealed battery harness and insole/sock connectors
• Includes battery harness and safety fuse
• Hand washable
ActionHeat® - 3.7V Rechargeable Battery Heated Wool Socks

Features:
• Built-In ultra-fine carbon fiber heating panels strategically placed on the top of the toes
• Advanced ultra-fine fibers provide superior heating performance
• Machine Washable using provided mesh wash bag only (gentle cycle)
• Unisex Fit
• Material Content: 70% Cotton & 30% Lycra
Estimated Heating Time:
• High (Red): 140F - 4+ Hours
• Medium (Orange): 120F - 6+ Hours
• Low (Green): 100F - 8+ Hours
How To Use:
• Power Up - Charge the provided ActionHeat 3.7V batteries.
• Plug-In - Connect the batteries to the cords located in the pocket on the top of the sock.
• Turn On - Press and hold the power button on the battery for 3 seconds.
Click on the image to enter the product page for more information.
Press the "shop now" button to browse the full catalog of heated gear at MOTORCYCLEiD.com
If you have any questions, feel free to contact us here or call 888.903.4344 (toll-free) to speak with one of our specialists.​