Discussion Starter
•
#1
•
k...so...what is your take on tires for the track? When to change them....? Do I need pretty much brand new tires on the track when I get on?
Reason being is that I still think these Michelins have some life left in them. The rear tire is BARELY starting to flatten in the middle (we're talking millimeters) and the front tire is wearing well; however when you run your hand on it to feel the roundness, it's almost as though it is wearing "rigidly" practically down the middle....? It feels fine on the road (no squirrelyness). My fork seals and oil are going be changed before track day (as far as I know it's never been done and I'm at 8400 miles total on a K7. I remember Dave Moss talking about similar tire wear on a front tire being "uneven" due to possibly the fork oil needing to be changed or not enough/too much rebound/compression...my sag is set good front and rear; the front has no pogo (compression feels right) action and I really like the feel of the suspension overall on the street and the track...
The front tire has about 4K miles on it and the rear has about 2K. The shitty roads around here EAT soft tires so I've already been through one rear tire due to flattening of the center...
I know the bike needs to be tip-top for track riding and I just got my Q3s in, but I'm wondering if these Michelins will make it one more track day...here are some pictures of my tires now: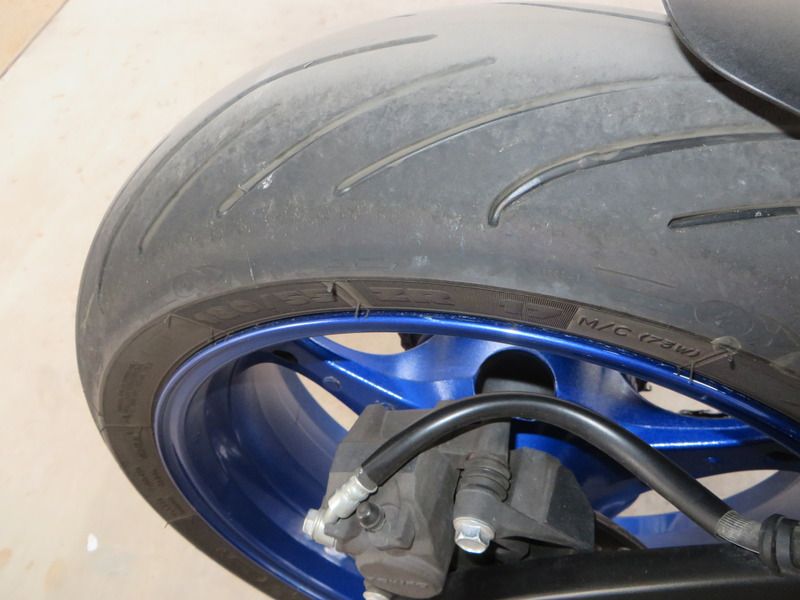 FRONT TIRE:
[/QUOTE]