Discussion Starter
·
#1
·
Arai Corsair V Helmet - Isle of Man TT 2012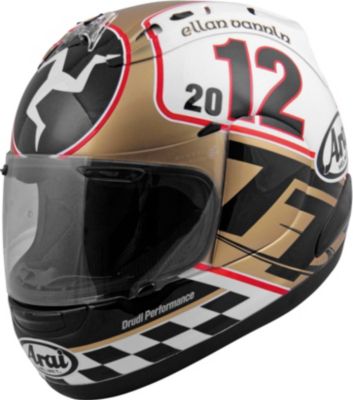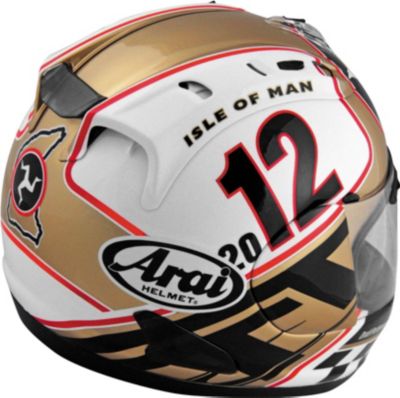 The new Corsair-V proves again that
Arai Helmets
main focus is the experienced rider who knows what a real Helmet should do and have. It doesn't fling "fashion" at you, it advances the art of building better helmets for riders. It's improvements and innovations reach down to the smallest details. Why? Partly obsession. Partly because Arai believes every part of a helmet is interrelated in both design and function. They don't believe in change for the sake of change, fad, or marketing shock value.
One major reason for
Arai's
legendary reputation for unmatched comfort and fit is their belief that the shape of a rider's head (the relationship between its length and width) is as important as head size in getting the best helmet fit. That's why they go to the considerable time, effort - and expense - to create more than one interior shell shape. (Arai was the first and only helmet manufacturer to acknowledge and address the fact that not all heads are shaped the same.)
DF-10 Diffuser - The newest generation diffuser has enhanced air inlets to increase airflow efficiency even better than the original Corsair. It's new middle-intake slot creates an accelerated venturi effect for even faster venting of stale air. New larger upper vent toggles make operation easier, even with thick gloves. And the center top vent has been re-sculpted to provide more air intake: it also has a larger toggle.
Peripheral Belting - Devised by Arai for it's newest Formula-1 helmets, this belt goes across the shells forehead area just above the eye opening, further enhancing the helmet's structural integrity while still maintaining exceptional flexibility and low weight. The belt is incorporated into Arai's most-advanced SNC (Structural Net Composite) shell construction to create the new PB-SNC shell.
Wider Eyeport - A real-world example of the Arai's philosophy of all parts working together: The Peripheral Belt's forehead-area strengthening let them create a new 10 mm wider eyeport opening (5 mm at each side) enhancing the riders peripheral vision and feeling of "openness" inside the helmet. While the wider eyeport will be beneficial to racers, it aids all riders.
Patented New AirWing - Arai's exclusive, adjustable new AirWing is designed to greatly reduce drag, turbulence and buffeting, providing you with unprecedented aerodynamic performance options via five hand-adjustable attack angles. At race speeds, or full-tuck position, run the AirWing in a lower position. Riding Sport or Standard-style bikes, run the AirWing in one of the middle positions. In an upright riding position it works best at one of the upper angles.
Removable / Replaceable Vented Neckroll - The Corsair-V's neck roll is now removable and replaceable, and adds an additional exhaust vent through its bottom via shallow channels in the EPS liner - yet another outlet for interior air.
Latest-Generation Dry-Cool Liner - Distinguished by it's silver-grey color, Arai's Dry-Cool liner has repositioned the rear mounting-snaps closer to the liner bottom for a more secure fit, making it exclusive to the Corsair-V.
Emergency Cheekpad Release System - This ground-breaking Arai safety innovation, originally introduced on the VX-Pro3 dirt helmet, was specifically developed to allow easier access to an injured rider (giving you a real idea of where Arai's priorities lie). The cheekpads are designed to slide out easily with the use of integrated pull tabs, making helmet removal much easier for trained medical technicians.
Outward-Flaring Hyper-Ridge - The previous Hyper-Ridge curved in; this one flares out. The result is a larger opening at the helmets bottom, making the helmet easier to get on and off. The Hyper-Ridge reinforcement band circle at the bottom of the shell, adding shell strength there; it's also said to help in "significantly lowering the helmets center of gravity", contributing to a better over all balance and making the helmet rest easier on your head.
Brow-Vent Channeling - Arai's distinctive faceshield Brow-Vents now send incoming air to the temple instead of the face, directing air to the ear area missed by many helmet ventilation systems. The airflow over the temple artery reportedly also helps cool the blood flow to the brain area.
Compact Organic Shell Shape - The new Corsair-V's shell shape is even more compact and aerodynamic then the original Corsair's. It not only looks smaller, sleeker and more natural (instead of big and round), it helps the shell fit the human head shape more closely, making it look better and "flow" better in the wind.
Series and Faceshield - The 10 mm-wider series faceshield is exclusive to the Corsair-V. It fits so flush that it looks like a continuation of the shell, and requires two small raised sliders in the front of the side-pods to keep the shield from contacting the helmet's upper shell when raised.
Side-Vent Exhaust Ports - The new design exhausts heat more efficiently. Now "sculpted" into the new rear shell shape, they have been shown to work in concert with the AirWing to greatly add lateral helmet stability at speed.
Noise-Absorbing Ear-Pad Foam - Addressing the issue of the noise in every helmet, Arai has introduced this new foam to help block assorted noises from reaching your ears.
MotoSport.com Price: $899.99
Fly Paradigm Solid Helmet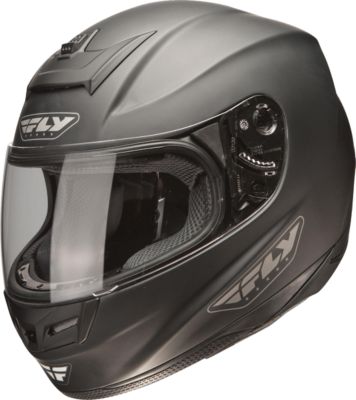 What makes the perfect
motorcycle helmet
? Is it
helmet safety
? Comfort? Quiet? Light weight? At FLY we believe a helmet must have all of these. So we created the Paradigm helmet to meet D.O.T. and ECE 22/05, one of the world's highest safety standards. Our high standards don't stop on the exterior. We only use the highest quality materials for the interior that, while soft on your face, also offers excellent moisture wicking properties. Additionally, the interior was designed in coordination with the styro to create maximum airflow with minimum wind noise yet still allow you to hear the traffic around you. At around 3.5 lbs, the FLY Paradigm is a helmet that you can wear in comfort all day.
Features and Material Attributes:
DOT & ECE - Meets and exceeds all the toughest world standards. Built to protect, built to last. Other standards may apply for Australian models.
EASY OPEN/CLOSE VENTS - Made to perform with your gloves on.
QUICK CHANGE ANTI-FOG SHIELD - Quickly swap out different shields from clear to tinted in a few minutes Optional tinted, mirrored, or colored shields are sold separately.
COMPOSITE CONSTRUCTION SHELL - Built with Fiberglass, Kevlar® and Carbon fiber.
DUAL DENSITY EPS LINER - Designed to help reduce the shock of impact by creating a more progressive impact absorption.
FLOW THROUGH EPS AND COMFORT LINER AIR SYSTEM - EPS and comfort liner align to maximize airflow.
"COMFORT LINER" WITH QUICK-SNAP - Comfort liner removes easily for washing.
MULTI PORT AIR INDUCTION COOLING SYSTEM - 3 large adjustable open/close intake vents coupled with 6 exhaust vents circulate mass amounts of air to keep your head cool even in the hottest of conditions.
MotoSport.com Price $174.99
Scorpion EXO-500 Oil Helmet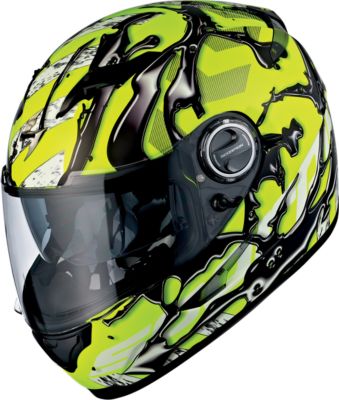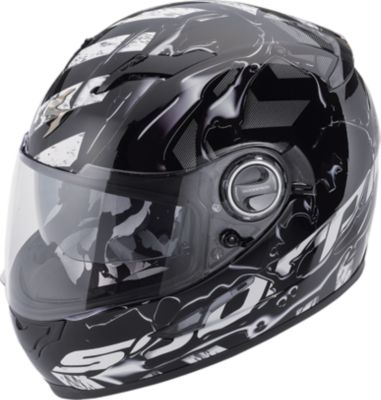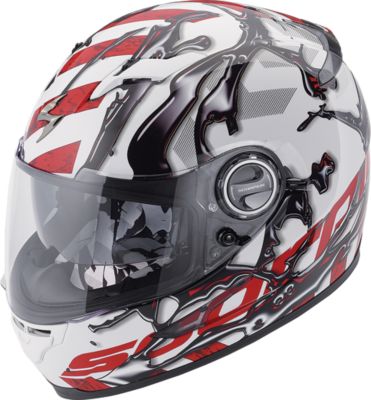 Polycarbonate Composite Shell - Quiet, aero-tuned design for wind-tunnel tested comfort. EPS-lined chin bar for additional protection.
AirFit permits a rider to personalize helmet fit through air adjustable cheek pads.
SpeedView an internal retractable light smoke sun visor that eases eye strain instantly in varying light conditions without changing face shields, plus an EverClear coating on both sides for a fog free ride.
SpeedShift quick-change shield system (patent pending): Easy, secure tool-less face shield changes in ten seconds or less.
EverClear no-fog face shield: Optically-correct shield with state-of-the art fog-free technology and anti-scratch hardened coating.
KwikWickII moisture-wicking helmet liner and cheek pads: Breathable, anti-bacterial, anti-odor, with a softer touch also easily removable and washable.
Ventilation system: front and rear vents with aero-tuned rear spoiler, create vacuum and maximize airflow through helmet.
Breath-deflector: Enhanced fog-free performance.
ECE 22.05/DOT Certified.
MotoSport.com Price: $219.99
Shop MotoSport.com for all of the top brand motorcycle helmets!