Discussion Starter
•
#1
•
Hey guys I am going to take you guys step by step through how to fix a dent. This Will come in hand if you buy stuff of ebay ex. a tank with a dent ( which I will be showing).
This is a picture of thank that I purchase through ebay. Sorry for the small pic It is the only one I have before I started this process.
The first step is to grind in and Sand the tank around the dent. This is done with 180 grit it can be done by hand but faster with air tools. (note tap up the holes so you dont get dust in the tank)
You will also need to sand off the stripes Which are under the clear by now it should look something like this
Once you have gotten here you need to get all the glue and residude off from the stickers it will look lie this
By now I have gone over the everything in 180 grit on the tank if you have some trouble getting off the stripes you can drop the grit down to 120 but then go over that area with the 180
Now Lets fix the dent I am going to use Duraglass it is stronger and becomes harder than Bondo it is go to start with.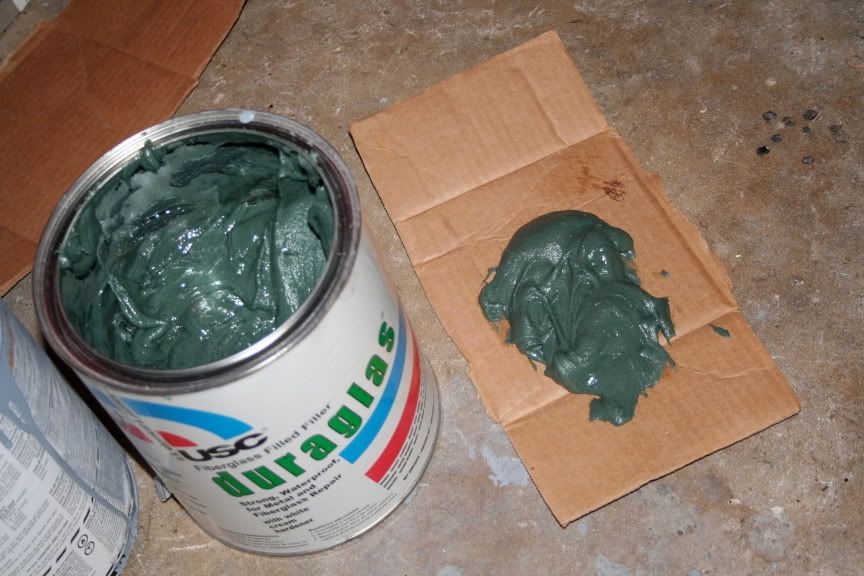 You want to mix the Duraglass throughly before applying this is so you go not get bubbles underneath, remember the more time you take to prep the better the overall job will be. When spreading the Duraglass you want to fill the dent and feather it out a little further. Try to keep it as smooth as you can. It will save you time sanding later.
It should look like this when it is dry and will be hard as a rock
Once it has curred you can sand it down smooth using a hard block for the flat areas. This will insure that the area becomes straigh and a soft block for the curved areas. Takes shape to tank. ( Both can be purchased at local auto parts stores for under 20$)
Hard Block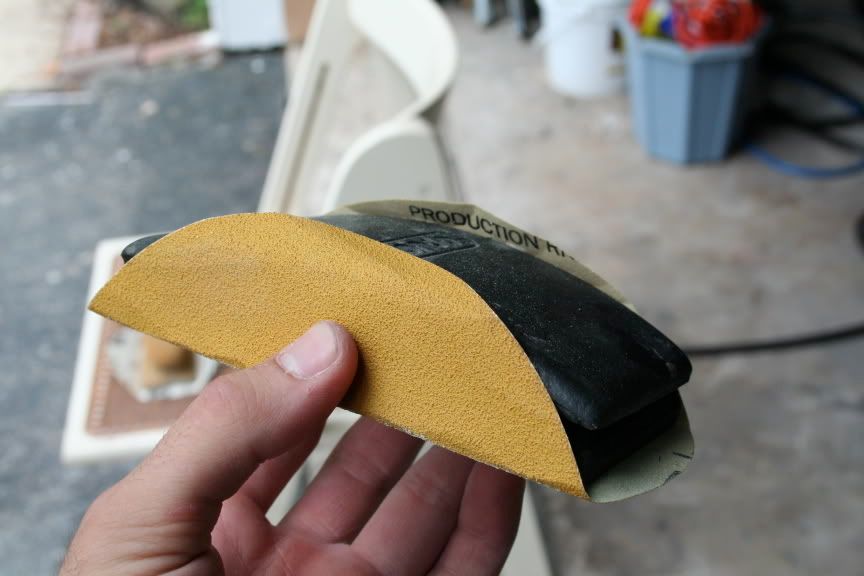 Soft Block
On the duraglass I use 40 to knock it down to the basic shape then come back and do a light coat of bondo which is easier to shape. This is the bondo when it has been shapped then gone over up to 180 grit
We are almost ready to prime go over the tank and look for any shinney places and sand them with 180 then blow off the tank really good you can use a clean cloth to help I use an air blower
Now it is Prime time you need to use a 2k high build primer this will take care of some of the inperfections but dont rely on it. Be sure to mix we and strain in to primer gun.
For the first coat kinda dust it on don't go heavy. You want to get coverage everywhere but controlled coverage. Wait about 5-10 min in between coats. The next coat go for coverage but done run the primer or you will have more sanding to do. It will look like this
2nd coat
After you are done primeing you can spray a guide coat which is black enamal just dust it on. This will tell you if you did a good job in prep when you go to wet sand it for paint.
Now you have a fully preped tank ready for paint process
I will try to do another How To when I get to the paint part
Danny :cheers