Ok here is the Cliff's Notes Edition of the 08 GSXR Exhaust Issues with pics and options.
Since there are still a few exhaust threads poping up I figured I'd attempt to lump it all into one thread for those that still have questions.
Here is your stock exhaust system (All 22 lbs of it..)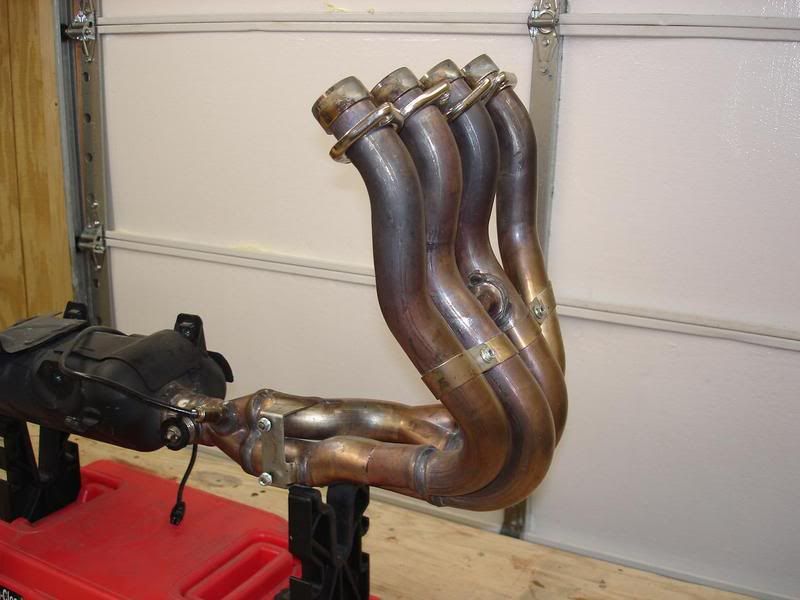 This is why we HATE it. (CAT is welded to the midpipe/header)
This is what is left if you want to simply want to install a stock 08 slip on. (With previous year models the cat came off with the stock muffler when you installed a slip on.)
Here are exhaust options starting with the simplest and working towards the most complicated and time consuming. Price for each option falls all over the spectrum for each option but most times the simplest cures are not only the best but are also the cheapest.
1.
Buy a stock 08 slip on. This does not eliminate the cat and isn't the most eye appealing. You get better sound and looks than stock but you still retain the heavy/ugly cat. (Pick courtesy of Freekobe15)
2.
Buy a stock 06/07 GSXR slip on, cut the cat off at the weld and use the remainder of the stock "midpipe" just behind the SET Valve to clamp the slip on down. This is probably the best exhaust option for the 08 bikes. It is simple, removes the cat and doesn't cost any more money than option number 1. So far it looks as though any 06/07 slip on will work using this method. Here is an EXCELENT "how to" by XLR 709.
http://www.gixxer.com/forums/showthread.php?t=193288
3.
Buy a stock 08 slip on, cut the cat off and fabricate a midpipe to fit in the space between the muffler and SET Valve. Any muffler shop could probably do this. This is the best option if you have already bought a stock 08 slip on and want to eliminate the cat. (Pick courtesy of Freekobe15)
4.
Buy a complete 06/07 exhaust system and swap out your stock 08 system. This is done to allow you to buy a stock 06/07 slip on and eliminate the cat. IMO this is not the way to go. Originally it was done this way but since then others have figured out more simple and cost effective ways of getting around the cat with a slip on. (see options 2 & 3)
5.
Buy a Full Aftermarket Exhaust. This is the most expensive route but will typically yield the most weight savings and power enhancement.
Keep in mind that with most of these mods it will be beneficial to retune your bike. There are plenty of options for this and the necessity and method is a whole other thread.