Discussion Starter
·
#1
·
I am parting out a few GSXR's I have. Both are 01's. Some Parts are brand new. I am located in Cranford, NJ and have priced most parts with a shipped price. Prices are OBO.
NEW:
-MDI Carbon Fiber 600 Air Ducts
$300
Shipped, 379 new
-Auctmarts 600 Fairings in Gloss Olive Green, black, and Gunmetal. Headlight hole was filled and cut for a 2" projector by auctmarts. I have a brand new bixenon projector for it as well. Includes everything an auctmarts fairing kit includes.
$500
shipped, 600 new
-Corbin Leather Seat and Pillion Seat
$350
shipped, 403 new
-PSR Adjustable Levers, black in color
$180
shipped, $218 new
-PSR 1K Manual Cam Chain Tensioner
$50
Shipped, 55 new
-Hybrid Racing 01 600 to 01 1000 Motor Mount brackets
$150
Shipped
-Braking SBK 320MM rotors, 05-08 Bolt Pattern
$500
Shipped, 570 new
-Driven Superlite Steel Sprockets, 15/42
$55
Shipped
USED:
-Polished 01 600 Frame With Clean Title
$350
picked up. Will look into shipping if needed
-Carbon Front Hugger. Small chip on side.
$60
shipped
-Carbon Rear Hugger
$60
Shipped
-05/06 1000 Wheels. Include brand New Dunlop Q3 Tires. Or I can remove them for $175 less.
$500
. Will look at shipping if necessary.
-Braided Stainless front Lines...Goodridge I think
$40
Shipped
-Black Zero Gravity Windscreen
$50
Shipped
-1000 Front Forks, recently rebuilt, no leaks
$250
Shipped. Add
$50
for triple tree assembly
-Nose Fairing with Dual Projectors, "Ducati" Nose
$75
plus shipping
-Yoshimura Titanium RS3. Has some scrapes. $150 Shipped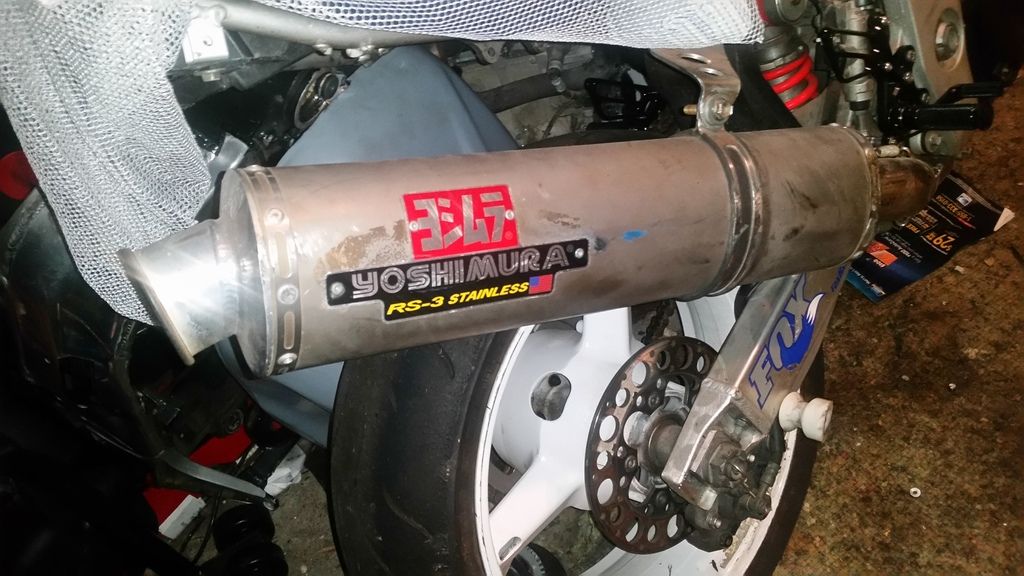 -Polished Subframe and Tray.
$90
Shipped
-Full Lock Set. Ignition, Tank, and Pillion Lock with Keys
$100
Shipped
-Lock Set with Ignition and Tanks Locks with Key
$50
Shipped
-1K airbox-
$40
shipped
-600 Airbox-
$40
Shipped
-600 Swing Arm polished. Left Side spool piece broken
$40
Shipped
-600 Swing Arm
$40
Shipped
-1000 Gold Caliper Set Fronts and Rear
$100
Shipped
-600 Caliper Set
$100
Shipped
-Stock Steering Dampers
$15
Shipped
-Lowering Links
$15
Shipped
-1000 Rear Shock
$50
Shipped
-600 Rear Shock
$25
Shipped
-1000 front forks, leaking
$100
plus shipping
-1000 front forks for parts, damaged top adjusters, broken hugger tab- Cost of Shipping
-Yellow tail fairing with a few cracks and scrapes
-01 1000 Wire Harness. Has a couple frayed wires to be reconnected
-600 Radiator, good condition
$60
shipped
-Factory Rearsets
$80
Shipped
-Blue 1000 side plastics in fair shape, 1 inch crack on bottom of 1.
-1000 motor with chip where stator cover bolts. Everything else in good shape. You could swap cases or quicksteel what chipped and have a motor ready to go. $400
I can only add 10 photos. More pictures are available at
http://s1322.photobucket.com/usermr_fork/library/mobile%20uploads
Also Selling a used Scorpion Exo Jacket, Size Medium. It is in good shape with no major flaws. It has 2 inner layers, 1 a windbreaker material and the other a moisture wicking layer. Because of the layers, this has served me as a jacket for all seasons(I had to ride my bike to work in the winter twice when I was doing work on my truck).
$100
OBO