Squid
Join Date: Aug 2011
Posts: 1
HELP:in search of sticker with girl on sportbike
---
A few weeks ago, I saw a sticker on the bumper of an SUV of a girl on a sportbike. I've been searching for it ever since with no luck. It's not a square or circular or rectangular sticker. It's like a silhouette but not. It looks slightly like the lines of this one
http://gallery.me.com/christen13#100281/bikegirl
but stretched out left to right and is all white/ lines.
I would try to draw it up but each time I do it it's not right. Any one know what I'm talking about? It might even be a company/business logo but it didn't have any words around it at all. Just a sport bike and a girl with a helmet and her hair coming out the back.
---
Last edited by 13girl; 08-27-2011 at

08:37 AM

.
Unstable SuperMod
Join Date: Apr 2001
Location: Guelph, Ontario, Canada
Motorcycle: 92 GSX-R 750R Liquid
Posts: 21,904
Re: HELP:in search of sticker with girl on sportbike
---
Is it at all like this? Not stretched like you said, but it is the white outline.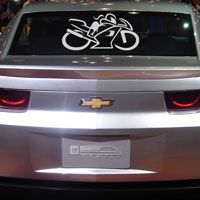 Found that here.
http://dalidecals.com/People-Silhoue...or/index2.html