New PB... by 1/2 second
---
My previous best was an 11.04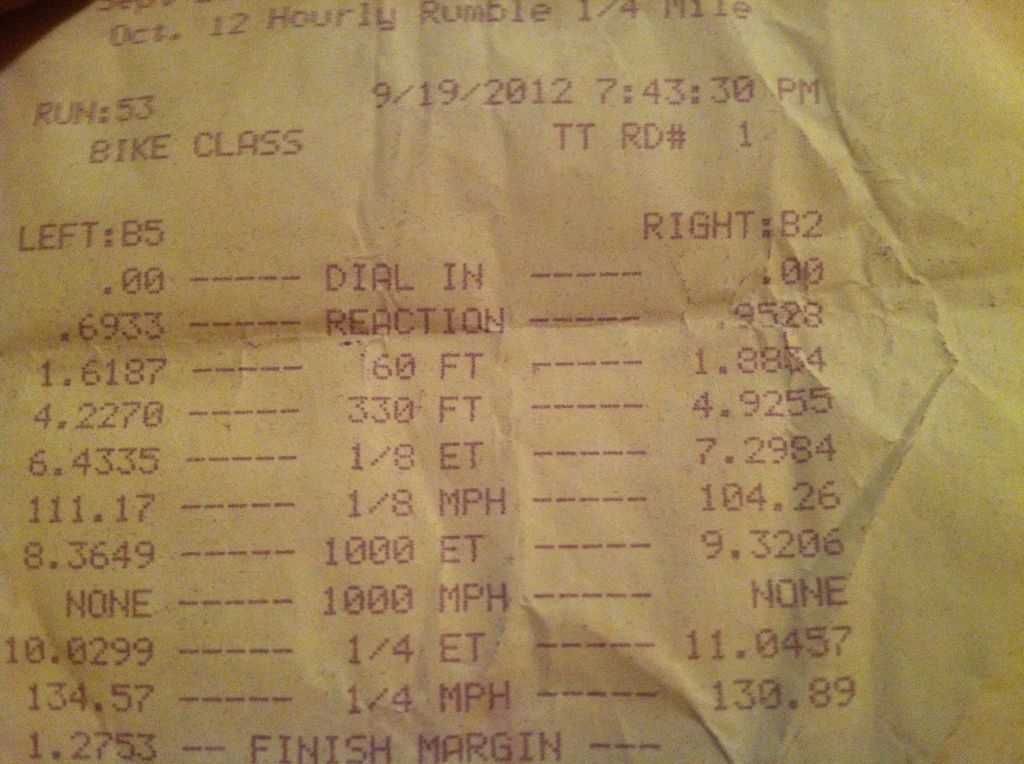 This time, I went a 10.53
Here's the video
In my gear I weighed in at 204 pounds.
2011 GSXR 750- yoshi exhaust, flash tune, -1/0, strapped and lowered, SWB. I had the factory suspension settings and tire pressure.
I was happy with running .5 faster. Even happier that I did it with a similar 60' as before. With some seat time and better 60 footers, I'll be shooting for some low 10's.
---
'11 GSXR 750
---
Last edited by 01gt4.6; 11-04-2012 at

08:30 PM

.
Track Day Winner
Join Date: Jul 2009
Location: Sandusky, Ohio
Motorcycle: 2011 GSX-R750
Posts: 95
Re: New PB... by 1/2 second
---
You can get that thing strapped harder then you had it. Still had some suspension play, but getting better.
My 750 k1 runs 10.56 1/4
---
Check my thread for pics dude.
Novice
Join Date: Mar 2012
Location: stl mo
Motorcycle: l1 750 BABY!!
Posts: 94
Re: New PB... by 1/2 second
---
nicely done.
Re: New PB... by 1/2 second
---
9.1 against you damn what was in the other lane.
lol threads a bit old