Consistent, albeit slow
Join Date: Dec 2000
Location: TN (right end), U. S. of A.
Motorcycle: G$X-R1000
Posts: 1,696
Re: Yoshimura TLR Pics
---
Thanks for sharing those pics, Mike!!
Amateur
Join Date: Aug 2011
Location: valdosta, ga
Motorcycle: 06 gsxr 600, 01 hd fxdl, 03 buell blast(for funzies)
Posts: 729
So sexy.

sent from toaster. yeah, toaster.
Squid
Join Date: May 2007
Location: Right here
Motorcycle: A motorcycle
Posts: 18
Re: Yoshimura TLR Pics
---
Yoshimura took the TLR on a little tour to some of the AMA races this season. Don't know if it'll be making more appearances, but if you're heading to a race might keep an eye out for it.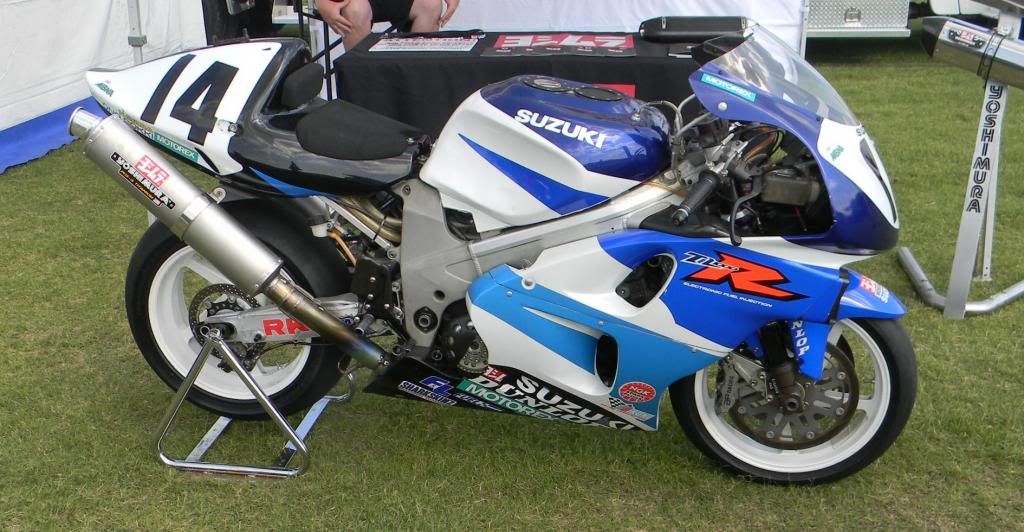 (not my pictures)
Vegemite-eating SuperModerator...
Join Date: Nov 2010
Location: Gippsland AUSTRALIA
Motorcycle: K3 GSXR 1000/2011 R1/2004 CBR 600RR track bike / 1994 GSXR 750/1996 CBR900RR / 2002 sv650s (wifes) /2003 CBR600RR / 2006 CBR 1000RR / 1997 GSXR 600 / 2001 RSV Aprilia 1000 / 2011 Z1000 / 2006 VTR 1000
Posts: 11,031
Re: Yoshimura TLR Pics
---
My nipples are hard ...
Re: Yoshimura TLR Pics
---
holy tits on a tiger. why has it taken this long for this thread to be in my life?
Provisional Novice
Join Date: Jan 2011
Location: NZ
Motorcycle: GSXR750 SRAD
Posts: 192
Re: Yoshimura TLR Pics
---
Yoshi took this bike to Laguna also . Cool to see in the flesh as we dont get too many bikes like this in NZ .